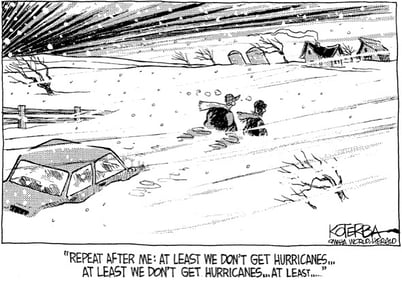 It seems that no matter where you are located, extreme weather events are occurring more frequently.
Unfortunately for staff members that manage vaccines, there is an increased probability of power outages during storms, and that your facility may lose power in the midst of one.
Most providers have three choices when volatile weather conditions are forecast:
1/ Move your vaccines to an alternate pre-determined storage location in advance of the storm.
However, the preparation and travel time, costs, and disruption to the office can be significant.
2/ Leave your vaccines in place if your refrigerator has a continuous-monitoring temperature alarm/notification system.
If the alarm goes off will anyone be able to venture out into the storm to retrieve the vaccines? It may not be safe or even possible in many cases.
3/ Relax and stay safe with the TempArmour™ Worry Free Vaccine Refrigerator.
Even if there is a power outage, the TempArmour will stay in range for days (without backup power).
With the TempArmour™ Refrigerator, you don't have to worry about how or when you will be able to get to your facility. With the ability to stay in range for typically 6 days without a backup power source, you can rest easy knowing that the vaccines won't spoil.
We are not suggesting that there will never be a scenario with the TempArmour™ where you may need to move your vaccines (e.g., flooding, forest fire, prolonged evacuation, etc.)…it's just much less likely.
Remember…SAFETY first!
Note: CDC's Vaccine Storage & Handling Toolkit recommends that an Emergency Vaccine Retrieval and Storage Plan be in place. VFC Providers under the Vaccines for Children (VFC) Program are also required by their State to have an Emergency Vaccine Management Plan in Place. Click here to view Vaccine Storage and Handling Guidelines and Information.