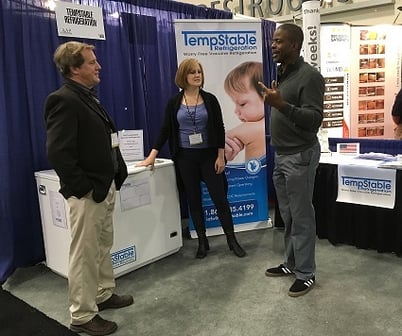 On October 22-24, 2016, TempArmour™ Refrigeration traveled to San Francisco, California to take part in the American Academy of Pediatrics (AAP) 2016 National Conference & Exhibition.
To demonstrate the incredible hold-over time of the TempArmour™ Vaccine Refrigerator, it was unplugged on Tuesday, October 18th and shipped to the AAP Conference site. When the fridge was opened at the tradeshow three days later on Saturday, October 22nd, the temperature was 5.1°C (41.2°F). On Monday, October 24th, when we were ready to pack up again, the temperature remained at 5.6°C (42.1°F), well below the upper limit of 8°C (46°F). The TempArmour™ refrigerator was still safely within temperature range to keep vaccines protected after 6 days without being plugged in!
The AAP conference provides a forum for physicians, residents, medical students, nurses and allied health members to convene for practical updates and reviews of pediatric practice, research, and advocacy. The pediatric technical exhibit is the largest of its kind and featured more than 360 companies, bringing the latest commercially available pediatric medical and pharmacologic products, services, resources, and technology. It was a great opportunity to meet health professionals from around the world and share knowledge and expertise.
TempArmour™ is the only vaccine refrigerator on the market that can hold temperature up to a week without power! We are proud to work with Pediatricians to keep children safe and healthy by helping to protect critical vaccines.