Stable daily temperatures and up to 6 days in temperature range during a power outage
The TempArmour™ Vaccine Refrigerator provides stable and reliable refrigeration for the storage of valuable temperature sensitive items.
Vaccines must remain within the critical temperature range of 36-46°F (2-8°C) and this is where the TempArmour™ Refrigerator excels. The fridge has been designed to avoid issues such as temperature spiking, cold spots, and freezing commonly encountered with other vaccine refrigerators and to ensure that the temperature within the fridge remains stable between 2-8°C every day.
Medical professionals can be assured that vaccines are maintained within a safe range during every day use or even if the fridge stops operating for any reason, including a power outage; unplugged cord; etc.. This extremely energy efficient vaccine refrigerator will keep temperature sensitive vaccines and medications safe for typically about 6 days without power. This can eliminate the need for backup power or the packing and transporting of vaccines to another facility. An example of the performance of a TempArmour™ Refrigerator after it has been unplugged is provided below (note: 6 days in temperature range is typical).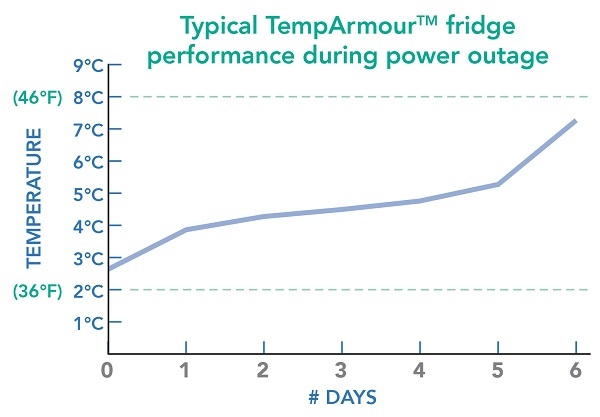 View or download the Features and Benefits Brochure (pdf)
The TempArmour™ Refrigerator is a purpose-built vaccine refrigerator - Read more about its features here
Our customers tell us:
We have been using 15 TempArmour Refrigerators in our facilities for about a year now and have not had one cold chain incident with them. One of our locations continued to use their existing refrigerator instead of the new TempArmour Refrigerator provided and subsequently had a cold chain incident...They are now using the TempArmour. L.R., SK
The performance of the TempArmour Refrigerators during Hurricane Irma was outstanding with no issues at all. The temperature remained in range when the power was out for 2-3 days. Manatee County Rural Health Services, FL
I love it! I have used many vaccine refrigerators over the years and have never previously used one that keeps temperatures so stable even when being opened constantly throughout the day. L.F., ON
Our nurses are so excited about this vaccine fridge. We simulated a power outage by unplugging the TempArmour vaccine refrigerator over the weekend (with outdated vaccines) and the temperature was still fine when we returned on Monday. S.W., SK