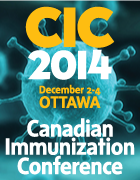 The Canadian immunization Conference brings together over 1000 professionals in the immunization field every second year. This year the Conference features over 80 speakers from across Canada and abroad who will be addressing a wide range of immunization topics. There will also be more than 30 exhibits showcased in the trade show.
Come visit us at booth 29 and see the TempArmour™ Vaccine Refrigerator in action!

The TempArmour™ refrigerator will be unplugged prior to shipping to the Conference where you will see firsthand how the temperature within the TempArmour™ Refrigerator will still be in range several days later…without the use of backup power!
You will also see the latest in min-max thermometers and data loggers used in the TempArmour™ Vaccine Refrigerator and find out how they meet the best practices in Canada; as well as the latest recommendations of the CDC in the United States.
Click Here to obtain a copy of the Preliminary Program for the Conference!