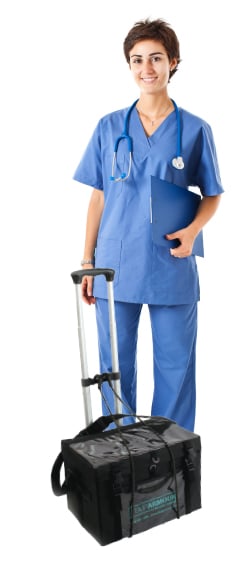 VCT-4 Vaccine Carrier maintains Vaccines within 2-8 °C for up to 3 days


(VCT-21 Vaccine Carrier for frozen vaccines maintains Vaccines below -15 °C)

The TempArmour Vaccine Carrier (Model VCT-4) is a safer and simpler way to transport vaccines*, as well as manage vaccines at off-site clinics (for school vaccination clinics, COVID-19 vaccine distribution, etc.).

This Qualified Container and Packout for vaccines incorporates proven phase change (PCM) and vacuum insulated panel (VIP) technology to ensure stable temperatures. The 6 phase change panels fit together within the insulated box to provide effective and reliable storage for refrigerated vaccines. Simply condition the 6 panels in the refrigerator, slide them into place in the carrier, and you are ready to go.
No electricity or ice packs required
Easy conditioning of panels in refrigerator or freezer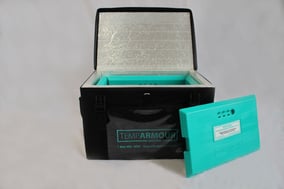 The VCT-4 and VCT-21 Vaccine Carrier
Designed with New TempArmour brand PCM panels

11 L (57% larger capacity than the previous 8L VC8 Model)
External Dimensions: 17.25" x 12" x 12"
Internal Dimensions: 12.75" x 7.25" x 7.25"
Weight: 20 lbs
Holds approximately 500 x 0.5 ml vials or 120 single dose syringes (based on typical manufacturer box sizes)
Laboratory tested/qualified

More secure locking:
D-rings to use with a padlock or zip ties

Easier to handle/move:
Durable and functional bag with handles on each side, a removable shoulder strap, and buckle closure

3 large pockets to hold documents, data logger, etc.:
A large clear pocket at the front with a velcro closure for easy access items
A large clear pocket at the top with with a zipper
A zipper fabric pocket at the back for more private/personal items
Same price as before and still includes all the accessories that we have always provided:
Folding lightweight cart for easy transport
Infrared laser (IR) thermometer for an added level of assurance (to measure temperature of panels prior to packing carrier).
User Guide specific to vaccine transport and management
Laminated Instruction Card

The VCT-4 Carrier includes panels to maintain vaccines within the refrigerated range (2-8°C)
The VCT-21 Carrier includes panels to maintain vaccines within the frozen range (-50°C to -15°C)
The panels for refrigerated temperatures and frozen temperatures are interchangeable and sets of 6 panels of either type can be purchased separately.

Carrier Price:
USA customers: $839 USD
Canadian customers: $1175 CAD
Carriers are IN STOCK. As availability can change quickly, please contact us to confirm current wait time.

Need a data logger?
DeltaTrak Flashlink Data Logger (Model 40527-01) $150 USD ($200 CDN) Half price sale: $75 USD / $100 CDN BUY NOW
Single device that has been calibrated for use for both refrigerated and frozen vaccines (not ultra-low)

Berlinger Fridge-tag 2L $175 USD ($225 CDN)
Fridge-tags (for refrigerator) and Fridge-tags (for freezer) are available

Both data logger options:
Meet CDC and VFC requirements
Are calibrated to ISO 17025
* Carrier not designed for shipping vaccines.
View the User Guide for the VCT-4 and VCT-21 vaccine carrier.