Our two most popular systems used by health centres and medical offices to backup vaccine fridges during a power outage are the Powerhub 1800-200 and the Powerhub 1800-400.
PowerHub 1800-400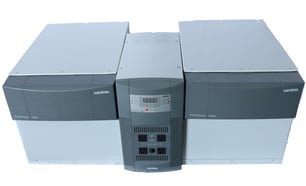 Description:
The PowerHub 1800-400 converts power stored in the four 100 amp-hr deep cycle batteries to 1800 watts of power to operate essential applications. It provides an affordable, high output, primary power solution for off-grid locations, as well as backup power for grid-connected homes/buildings when the power goes out. Setting up this power system is simple and hassle-free with built-in fuses, breakers, and cables. In addition to the option of being charged via an AC wall outlet, the PowerHub 1800 can also be hardwired and installed in such a way that your batteries can be charged from a generator, solar panels or a wind turbine. The system also allows for pass-through generator output. The advanced automatic power transfer switching ensures your essential applications keep running in your grid-connected home/building should the power go out.

Dimensions: 36"W x 20"D x 14"H

Features:
-Modified sine wave inverter/charger with battery box
- Designed to include a generator as part of the system (if desired); generator power can pass through the unit to the AC outlets, and recharge the batteries
- Integrated transfer switch
- 40-amp three-stage charger
- Four AC outlets with hardwire option
- Two DC inputs for solar and/or wind connections
- Full-feature LED display for system monitoring
- four 100 amp-hr 12v sealed lead acid deep cycle batteries
PowerHub 1800-400 Price:
USA orders: $3100 USD - ships from within USA
Canadian orders: $3600 CAD - ships from within Canada

This price includes four 100 amp-hr batteries. If you wish to purchase the Powerhub 1800 as a system with only two 100 amp-hr batteries, please click here to view the PowerHub 1800-200 which provides half as much run time as this PowerHub 1800-400 Model.

Further information:
PowerHub 1800 Data Sheet PDF (Xantrex)
PowerHub 1800 Operator's Guide PDF (Xantrex)
PowerHub 1800 Installation Guide PDF (Xantrex)
Warranty:
The PowerHub 1800 inverter unit is covered by a 1 year Manufacturer's Warranty. Please visit the Xantrex Warranty Page Here for full warranty details.
Batteries provided with the PowerHub 1800 are covered by a 1 year TempArmour Warranty.

Our customers tell us:
We purchased backup power units for the fridges and freezers in our labs for a planned power outage and the units provided the runtime that we needed. It turned out lucky for us because shortly after, our facility had a blackout.
M.D. Ontario, CA

Please feel free to contact us to discuss which backup power system would best fit your requirements. The runtime depends on many factors including the efficiency and size of the refrigerator/freezer, brand/model, etc. We have many years of experience with backup power systems for commercial use and would be happy to assist you with this.
** ALTERNATIVE SOLUTION TO USING BACKUP POWER FOR MEDICAL REFRIGERATORS AND FREEZERS **
You might also want to consider the TempArmour™ Vaccine Refrigerator which will maintain its temperature for up to 6 days without backup power. This innovative new refrigerator is ideal for vaccines and other temperature sensitive items. The TempArmour purpose-built refrigerator is also significantly more cost effective than using traditional vaccine / medical refrigerators and backup power systems. Please click here to read more.