Calibrated and Certified Min-Max Thermometer
Every TempArmour Refrigerator includes a high quality, certified min-max thermometer that has been specifically designed to meet all the latest recommendations from the Centres for Disease Control and Prevention (CDC) and other jurisdictions across North America. Each thermometer has its temperature probe in glycol and is accompanied by the required Certificate of Calibration
Click here to view the Specification Sheet for the Min-Max Thermometer.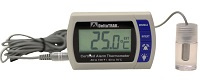 Calibrated and Certified Data Logger
As the CDC also recommends the use of a data logger for the storage of vaccines, a FlashLink USB data logger is also included with the TempArmour Vaccine Refrigerator (includes software). This Data Logger is specifically designed to meet all of the CDC feature recommendations.
The USB Data Logger is completely and easily programmable and records the ongoing temperature within the fridge and presents it in a graph format on a computer where all the information can be downloaded and stored prior to returning the data logger back to the refrigerator. All that has to be done is unplug the USB from the temperature probe in the vaccine fridge, and connect it to the computer. The included Program Manager Software is simple to use.
These loggers are also popular for recording temperatures when transporting vaccines. Note: you would not use the logger that is dedicated to the vaccine fridge for this purpose but would have an additional one on hand for that purpose.
Click here to view the Specification Sheet for the USB Data Logger.